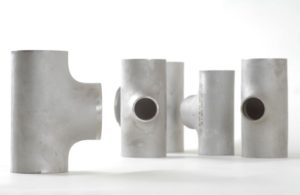 Fitting, pipe fittings are manufactured from seamless or welded pipes, hot pressed or cold formed, with appropriate heat treatment and the detection of mechanical and technological properties of materials, with final finishing. Larger sizes are pressed from sheet metal and welded, with corresponding examination of the weld to the required quality.
Fittings are manufactured from any suitable steel, such as St37.0, St52.0, St35.8I, 15Mo3, 1.4301, 1.4541, 1.4571, 304L, 316L. For a detailed overview on materials, delivery standards and material requirements, please see Euroflansch Material.
Fittings are manufactured in accordance with standards DIN, EN, ANSI, or according drawing.
The production of all types of fittings such as elbows, t-pieces, eccentric / concentric reducers, caps is possible. We manufacture dimensions according to the complete standards range from DN15 up to DN600, respectively 1/2" up to 24". All other dimensions beyond this range on request.
Please contact us directly for any question.