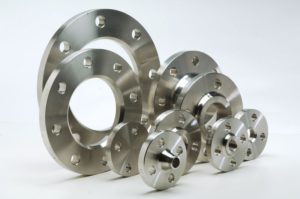 Euroflansch produce your flangeOur flanges, collars and rings are forged or seamless rolled. The manufacturing process includes an adequate heat treatment and the examination of technological and mechanical properties. The final finishing happens on appropriate CNC machines, as well as on conventional lathe, depending on the size. The screw holes are generally drilled to ensure a flat surface for srews.
Flanges are manufactured from any suitable stainless steel, alloys or carbon steel grades, such as 1.4541, 1.4571, F316L, F304L, WStE355, TStE355, LF2, 16Mo3, C22.8, P250GH, S235JRG2, RSt37-2. Of course, other materials are available on request. For a detailed overview on materials, delivery standards and material requirements please see Euroflansch Material.
A Flange, a collar or a seamless ring is produced to order by the corresponding flange standards DIN, EN, ANSI, GOST, JIS and other international norms and standards or according to customer specifications.
Euroflansch is a leader in the production of flanges with customized dimensions.
Especially in the area of lapped (loose) flanges (DIN 2641/2642 / EN1092-1 Typ 02), flanges for soldering or welding (plate / plain flange) (DIN 2573/2576 / EN1092-1 Typ 01) and blind flanges (DIN 2527 / EN1092-1 Typ 05) price reductions could be realized by using reduced – but the demands sufficient – blade thicknesses instead of the standard.
We also produce specific wall thickness (reduced, reinforced, 3° inner bevel) for welding neck flanges (eg DIN2633 / EN 10921-1 Typ11) as well as for so-called orbital weldingneck flange (suitable for machine welding). It natuarly covers the weld preparation and the desired joint shape (I-seam / seam-V / U-seam) or even tongue and groove flanges (DIN 2512 Form R / Form N), projection and recess (DIN 2513 Form V13 / R13), or groove for rubber seal rings (DIN 2514 Form R / Form V), DIN 2695 and DIN 2696 and of course Ring Joint Facings, large and small male / female facings, large and small tongue / groove facings (according ASME B 16.5)
The production of all other flange types not mentioned and other engineering parts or mechanical parts is possible.
We manufacture dimensions according to the complete standards range from DN10 up to DN2400, respectively 1/8" up to 60". All other dimensions beyond this range on request.
Please contact us directly for any question.